Sunny Leone and Daniel Weber are Husband and Wife. Sunny Leone and Daniel Weber were married on 20 January, 2009.
Sunny and Daniel first met at a party in 2008. After their first meeting, Daniel was love-struck, but Sunny did not reciprocate his feelings. Sunny kept turning down Daniel's request for a date. Finally, on their first date, Sunny deliberately came late because she was not interested in Daniel. The first date went so well that they eventually ended up talking for five hours. That was when Sunny realized that she may have a long term future with Daniel.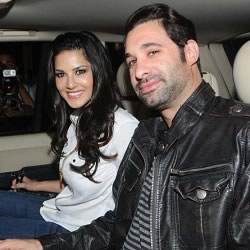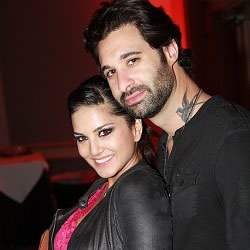 ( Click on the pictures to enlarge them )
In addition to being husband and wife, Sunny Leona and Daniel Weber are also business partners who produce, direct, write, edit, promote and star in adult entertainment films.
After four years, Sunny and Daniel's personal and professional relationship seems to be the best it has ever been.
Who is Daniel Weber
Daniel Weber is actress Sunny Leone's husband and business partner.
Daniel Weber was born on October 20, 1978, in Massapequa, New York.
In addition to running a studio with Sunny, Daniel Weber is also the Lead Guitarist of the rock band "The Disparrows".
"The Disparrows" are a LA based rock band which has Blues influences. The band was established in 2010 and the four members are Daniel "Dirrty" Weber (Lead Guitar and Vocals), Stephen Tecci (Bass amd Vocals), Michael Brasic (Drums) and Grant "DR" Loosvelt (Keyboards and Vocals). The band was also known as "Spyderz"
When performing for rock band "The Disparrows", Daniel uses the name "Dirrty"
Daniel is 5 feet 11 inches. He belongs to the Jewish faith.
In the past, Daniel has used the screen name "Ariel King" for his adult movies.
Daniel has tattoos all over his bodies. On the right side of his neck he has a tattoo of a Spider and on the left side of neck he has a tattoo of a Swallow.
Personal Information on Sunny Leone
Sunny Leone's real name is "Karenjit Kaur Vohra". She also uses the name "Karen Malhotra" (Karen is short for Karenjit). She belongs to the Sikh religion. She chose the name "Sunny Leone" because "Sunny" was her favorite nickname and "Leone" was suggested to her by Bob Guccione, the publisher of Penthouse.
Sunny Leone's measurements are 34DD-24-34. She is 5 feet 4 inches tall and weighs 110 lbs (50 kg). She has had breast augmentation procedures.
Sunny was born in Sarnia, Ontario, Canada on May 13, 1981. At the age of 15, her family migrated to Michigan in the US. The family finally settled in Orange County, California. Even though she was granted US citizenship in 2006, she continues to keep her Canadian citizenship.
Sunny graduated from high school in 1999 and enrolled in a college in Orange County to train as a pediatric nurse.
Sunny's mother passed away in 2008 and her father died of cancer in 2010. She has one brother (see below for a picture of her brother). In memory of her father, Sunny supports the American Cancer Society.
Sunny Leone's mother was from Sirmaur district in HP and her father was born in Tibet and grew up in New Delhi.
She started her adult entertainment career with Penthouse magazine in 2001. Sunny Leone was the March 2001 Penthouse Pet of the Month and the 2003 Penthouse Pet of the Year.
Sunny started her hardcore adult entertainment career in 2003 with a three year contract with Vivid Entertainment. Her first movie was titled "Sunny" and was released in Dec 2005.
Sunny Leone became a household name in India after her appearance in the 2011 Indian reality TV show "Bigg Boss". Her demeanor on the show impressed many. During the course of the show, Mahesh Bhatt offered Sunny a starring role in "Jism 2".
"Jism 2" is Sunny Leone's first debut Hindi movie. This movie is directed by Pooja Bhatt.
Sunny Leone's first two Indian commercial advertisement are for "Manforce" condoms and "Chaze" mobiles which are new mobile phones by the Kumar Mangalam Birla group.
Aamir Khan is Sunny Leone's favorite Bollywood actor.
Sunny was previously engaged to Matt Erikson, who was vice-president of Playboy Enterprises. Post her success in "Bigg Boss", Matt released an old movie of Sunny and him without her permission.
Sunny has acted in mainstream movies – "The Virginity Hit", "Pirate's Blood", "Deadly Stingers".
Sunny and Daniel have a house in Hollywood which they share with their two dogs. Sunny loves dogs and has campaigned for PETA in India.
In interviews Sunny repeatedly re-affirms that even though she and Daniel are in the adult entertainment business, they are committed to each other.
Sunny likes to ride horses and paint abstract paintings.
Sunny Leone and Daniel Weber Professional Collaboration
In August 2008, Sunny Leone and Daniel Weber together started a film production studio called "Sunlust Pictures".
Sunny and Daniel make their own adult entertainment movies. They are involved in most aspects of the movie business, including scripting, directing, producing, casting, promotion, editing and acting. Sunlust pictures make 4 to 5 movies a month. Many of the movies that they make do not star Sunny, but other adult actors. Sunny makes relatively few (3-4) adult movies in a year.
Leone L.L.C is a company formed by Sunny to manage her popular website, adult toys range and other business interests.
Sunny and Daniel are smart entrepreneurs. Since Sunny and Daniel produce their own movies they have control on their content and a healthy income stream.
Daniel managed the business negotiations with Balaji Motion Pictures for Sunny Leone's second Hindi film "Ragini MMS 2".